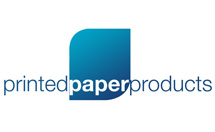 freephone: 0800 616244
freefax: 0800 716563

You are currently on:
Privacy:
1. Copyright
The information contained in this Site including all images, illustrations, designs, photographs, video clips, writings and other materials that appear herein are copyrights, trademarks, trade dress or other intellectual property owned, controlled, or licensed (all of which, collectively, are herein referred to as the "Material") by Printed Paper Products Ltd., it's parent company, subsidiaries and affiliates or are the property of their respective owners. The name Printed Paper Products and the Printed Paper Products logo are registered trademarks of Printed Paper Products Ltd.
Permission is granted to display, copy, distribute, download, and print in hard copy portions of this Site for the purposes of:
(1) placing an order with Printed Paper Products Ltd
(2) using this Site as a shopping resource, provided you do not modify the Site and that you retain all copyright and other proprietary notices contained in the Material.
Except in connection with shopping or placing an order, none of the Material may be downloaded, copied, sold, reproduced, republished, uploaded, posted, transmitted, distributed and / or otherwise dealt in or with, without the prior written permission of Printed Paper Products Ltd or the applicable copyright owner
2. Disclaimers.
DISCLAIMER OF WARRANTY
Printed Paper Products IS PROVIDING THIS SITE AND ITS CONTENTS ON AN "AS SEEN" BASIS AND MAKES NO REPRESENTATIONS OR WARRANTIES OF ANY KIND, EITHER EXPRESS OR IMPLIED, INCLUDING, WITHOUT LIMITATION, WARRANTIES OR CONDITIONS OF TITLE OR IMPLIED WARRANTIES OF MERCHANTABILITY OR FITNESS FOR A PARTICULAR PURPOSE, AND NON-INFRINGEMENT. ALTHOUGH Printed Paper Products BELIEVES THE CONTENT TO BE ACCURATE, COMPLETE, AND CURRENT, Printed Paper Products DOES NOT REPRESENT OR WARRANT THAT THE INFORMATION ACCESSIBLE ON THIS SITE IS ACCURATE, COMPLETE, OR CURRENT.
Price and availability information is subject to change without notice.
DISCLAIMER OF LIABILITY
IN NO EVENT SHALL Printed Paper Products BE LIABLE FOR SPECIAL, INDIRECT, EXEMPLARY, OR CONSEQUENTIAL DAMAGES OR ANY DAMAGES WHATSOEVER, INCLUDING BUT NOT LIMITED TO, LOSS OF USE, DATA, OR PROFITS, WITHOUT REGARD TO THE FORM OF ANY ACTION, INCLUDING BUT NOT LIMITED TO CONTRACT, NEGLIGENCE, OR OTHER TORTIOUS ACTIONS, ALL ARISING OUT OF OR IN CONNECTION WITH THE USE, COPYING, OR DISPLAY OF THE CONTENTS OF THIS SITE.
In an effort to provide our customers with the most current information, Printed Paper Products will, from time to time, make changes in the Contents and in the products or services described on this Site.
3. Privacy Policy.
Policy - The Printed Paper Products Privacy Policy protects the privacy and personal data of individuals and companies and is an important aspect of the way we organise and implement our activities both on-line and off-line. This policy covers all Printed Paper Products web sites only and not other web sites linked to our site.
Contact - For all matters relating to your privacy rights please contact our Customer Services Team.
Information collected - We collect the personal data that you volunteer on forms which you submit to us (including, but not limited to, registration, order, survey, and competition forms), and in emails which you send to us.
Who collects this information - All data is collected by Printed Paper Products and held on our secure databases in our offices here in Hinckley and at Heart Internet in Nottingham, where our Web site is hosted.
How is this information collected - All data is collected through the ordering/registration/Catalogue Request processes on our web site and through emails and telephone calls to our Customer Services Team. All information is collected lawfully and in accordance with the Data Protection Act 1998.
Why is this information collected - the personal data collected (as described above) is used to allow us to develop our sites in a way that will enhance the online experience of the greatest number of users. The data allows us to generate statistics and valuable marketing data on the type of customers using our site. This data enables us to offer an efficient and professional service to our customers and to enable us to offer them the best possible prices and promotions.
Marketing Policy - this information is used to keep our customers informed of future product launches and offers via our Newsletters and Promotional material.
If you would like to subscribe to receive these promotional materials please email us at ...... subscribe@printedpp.co.uk
If you do not wish to receive any of these promotional materials please email us at ...... unsubscribe@printedpp.co.uk
On occassions we may use this data with external marketing partnerships (EMP). If you do not wish your details be disclosed for these purposes please email us at ...... unsubscribe@printedpp.co.uk